IKKYU
Premium Japanese Green Tea
A curated selection of exceptional and premium Japanese green tea and matcha, directly sourced with the farmers and shipped from Fukuoka, Japan. Start your green tea journey with IKKYU and discover an amazing and healthy universe of taste and flavors.
EXCLUSIVE TEAWARE
Discover The Craft of The Masters
TAKATORI STYLE
Takatori-Yaki is famous for the use of seven different kinds of color glazes. Moreover, it produces a high note as if it was porcelain when flicking one's fingers at it. This is because Takatori-Yaki is made very thin although it has layers of glazes.
DISCOVER OUR SELECTION
KARATSU STYLE
Karatsu Yaki is considered one of the top ceramic producers within the Japanese world of pottery with techniques including a Kick wheel, Climbing kiln, Wooden ash glaze (a glaze technique from Korea mainly made from charcoal) and its bright colors and simplicity.
DISCOVER OUR SELECTION
ARITA STYLE
Arita-yaki porcelain follows a special technique coming from 400 years of history. The first porcelain made in Japan followed the discovery of porcelain clay near Arita near the end of the 16th century.
DISCOVER OUR SELECTION
DENTO HON GYOKURO
King of Japanese Green Tea
Gyokuro is a delicate and exclusive beverage that requires enormous amounts of skill and work to produce. It's so rare because it's so difficult to make. If you are looking for the best green tea experience, then look no further than our exclusive selection of gyokuro!


About IKKYU
Located in Fukuoka right next to our tea producers, IKKYU connects tea lovers from around the world with the people who devoted their life to making the best Japanese green tea. Hear their voices, read their stories, taste their extraordinary teas and find out why choosing our teas will bring joy and pleasure to your cup.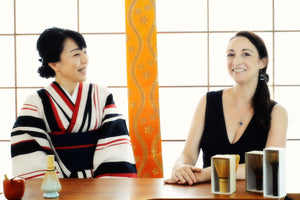 WHY CHOOSE IKKYU ?
Tea Enthusiasts From All Around The World Trust Us
Complete Tea origin transparency and traceability
In-depth reviews by certified tea instructors
Special blends made only for IKKYU
Fresh stock every month
Tea-specific brewing instructions
WORLDWIDE SHIPPING
free shipping starting at 150$
COMMITMENT TO SUPPORTING THE PRODUCERS
Welcome to our New Shop !
Our new shop is now online. Please read this for any related question of inquiry.
NEW SHOP IKKYU
White Tea, Tea Tasting by Yuka san
Use this section to explain a set of product features, to link to a series of pages, or to answer common questions.
OUR TASTING CORNER
Crustless Broccoli Pie With Cheese
A delicious healthy and easy to prepare pie that will soon be in set in your weekly list. Enjoy it with our shiraore IKKI, sencha MAIKi or koucha CHISEN.
RECIPES